Amino acids
Physicochemical Properties and Chemotaxis
Investigation of the physicochemical properties of the chemotactic amino acids demonstrate that relatively high pK values of N-terminus are preferred in chemoattractant (e.g. Cys, Glu, Pro, Gly), while this character is decreased in chemorepellents (e.g. Tyr, Trp, Val, Phe). Negative hydropathy indices of chemoattractant amino acids are also characteritic: increasing this value results intermediate and chemorepellent moieties in these small ligands. Surface expressed area (SEA) of the whole ligand or the available sidechain proved to determine chemotactic ability of amino acids or oligopeptides. In these cases low surface values have good correlation with the increased chemoattractant ability (Kõhidai et al. Cell Mol. Biol., OL 49: 2003).
pK

(-COOH)

pK

(-NH2)

SEA

[sqÅ]

SEA of sidechains

[sqÅ]

Buried residues [%]

Hydropathy

index

Chemoattractants-

wide-cc.range

2.14

±0.05

9.79

±0.28

148.36

±15.73

36.3

±9.34

-1.21

Intermediate

2.12

±0.07

9.35

±0.12

179.7

±14.68

73.12

±9.57

34.87

±7.14

0.9

Chemorepellents

narrow cc. range

2.21

±0.08

9.3

±0.11

218.21y

±14.43

102.25y

±10.52

43.00

±9.91

0.78
Chemotactic-Range-Fitting
In the case of amino acids the effective concentration ranges seem to be also characteristic. The new phenomenon of 'Chemotactic-Range-Fitting' was described on the basis of these observations (Kõhidai et al., Cell Mol. Biol. OL 49: 2003).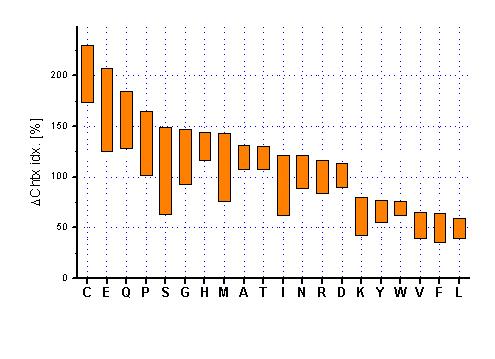 Chemotactic-Range-Fitting (CRF) of amino acids in Tetrahymena pyriformis GL. A group of amino acids (Cys, Glu, Gln, Pro and Ser) shows a wide chemoattractant rage in action, while e.g. amino acids with aromatic side chain (Tyr, Trp, Phe) possess a narrow rannge in this respect.
Phylogeny and Chemotaxis
Comparative study of chemotactic ability and the consensus chronology of amino acids Trifonow (1999) shows a good correlation between chemotactic capacity of the ligands and their appearance in molecular phylogeny. The earlier amino acids proved to be the best chemoattractants (Gly, Pro, Glu) which supports the theory that chemotaxis should play a fundamental role in the turn of prebiotic-biotic period of evolution. (Kõhidai et al., Eur.J.Protistol.in press)